The 2-in-1 Pumpkin™ Self-cleaning Massage Brush
Regular price
$29.99
Sale price
$20.99
Unit price
per
Sale
Sold out
Details

Designed to look like a leaf and filled with soft polyester cotton to provide maximum comfort and warmth to your furry friend.
Use super soft and smooth material to care for your pets' skin, giving your pet the perfect place to snooze on with a maximum sense of security.
Let your pet sink into a place full of relaxation to sleep, away from fatigue and stress.
Easy to clean and easy to storage.
Available on both sides. You can choose whichever your pet likes.
Size Guide
Shipping Info

Shipping:Your order will be processed within 24 hours.Question about the shipping fee? Orders above $39 USD, get free shipping! For orders under $39USD, our standard shipping is a flat $4.99 USD.

Returns:If you have any quality issues with your order and want to return or exchange an item, just email us at support@cattasaurus.com within 30 days after order fulfillment, and we'll quickly respond with details to exchange the product or process a refund.
Customer Reviews
06/28/2022
Charly

United States
SO MUCH CAT HAIR if cat fur were a valuable commodity it wouldn't be long before Forbes mentions me.
I brushed off enough cat hair to have another cat. I would recommend this brush if you want to brush your fur babies bald. It won't actually ever happen, them being bald, but it is so satisfying to see that fur pile up next you as you spend 30 minutes brushing your cat or dog. I'm starting to think Porkins doesn't even have any skin, she must be made entirely of fur as it NEVER ENDS. She's completely passed out now from all the brushing, she loved it. The push button to retract the bristles is fantastic and makes for easy clean up! Totally worth every penny, and I'm sure Porkins would agree as well, if she understood the basic concept of monetary values.
06/23/2022
Justin S.

United States
Not as effective as the Furminator, but more comfortable for the pet and user friendly.
Disclaimer - I'm a veterinarian, so I know way too much about different brushes and grooming implements. I have always had a love-hate relationship with slicker brushes... love because they're effective and comfortable, and HATE because they are the absolute biggest pain in the butt to clean, especially without damaging the thin bristles, or bending them in such a way that they poke the animal uncomfortably. Now, I have a longhaired senior cat who has twice had to go under anesthesia for removal of massive hairballs. The last time, he received an Rx for a haircut from his Internal Medicine specialist. So we have been on an intensive hair management program - but he hates being brushed. So I'm constantly going through various brushes and combs. My go-to is the Furminator, but my main gripes with it are that it is uncomfortable for the cat (pulls his skin excessively at times) and its blades, even on the long-hair version, fill up with nearly every swipe. It is easy to clean, but when I have a squirming, annoyed cat in one hand, it is difficult to be constantly cleaning the blade out. But it absolutely pulls the most shed hair and undercoat with each swipe. This brush is 10x more comfortable for my cat, while still pulling a decent amount of shed hair. Cleaning it is AMAZING - just press the button, pull the pad of hair off, and it doesn't fill up until after nearly a full session of brushing. It is not taking off as much hair as the Furminator, but the fact that he doesn't get instantly annoyed and thus I can brush for longer and create a more positive experience for him is important.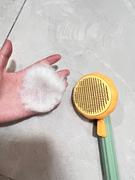 09/06/2022
Jennifer B.

United States
She loves it!
Our kitty loves this brush, even rolls to her back for us to get her belly
06/27/2022
Lucille H.

United States
Cat owner: On the fence? Give it a shot!
My cat has short hair, but a thick undercoat. I have tried other types of brushes and they don't get much hair at all. Now, I KNOW this cat sheds cause when I go to pet him, it's like a puff of hair in the air. I was on Amazon and found this one and thought I'd give it a try and I am SO glad I did! I brush him 2-3x a day and I always find a good amount on the brush. I didn't think I would care that it was self cleaning, but it is seriously the best feature about this brush. So easy! He loves how it feels and I love how it works. I do have another cat who doesn't care for it, but she is picky about everything, so oh well! Haha! It is worth a try cat owners!
06/26/2022
Marje M.

United States
A miracle for my long-haired cat
This is an upgrade from any other pet grooming brush I have ever owned. I never expected such a great product from a great company when spontaneously ordering a flash deal, but to my surprise this has exceeded my expectations beyond belief. Having a long-haired cat who is OCD about cleaning herself, and it being shedding season, I am very happy that I made the decision to get this. She even runs toward me when she hears it click, which is something she has never done before, and this brush removes so much more fur than any other owned. I am hoping this will lessen her struggle with hairballs and I have nothing negative to say about this product-definitely get it!