Regular price
$29.99
Sale price
$19.00
Unit price
per
Sale
Sold out
Money Back Guarantee

Easy Returns

Fast Shipping
Removes dead hair, tangles & knots
Easy to clean at the push of a button (literally!)
Massages for healthier & shinier fur
Prevents painful skin-scratching
Long, medium & short-haired cats
About the Product

Grooming your cat can be a real hassle. Most cat hair removal tools are ineffective and painful for the animal. No wonder why your furry friend doesn't want to stay still, ugh...

This Cattasaurus Self-Cleaning Brush™ removes loose hair and massages your cat in the most gentle way possible, leaving a healthy and shiny fur, free from tangles & knots.
Happy Purrs Guarantee

Try it out for 90 days and if it doesn't work for you, you'll get your money back.

If you have any problem with your order, send us a message and we will handle it! Just reach out to our friendly team at support@cattasaurus.com or via live chat and we will assist you.
View full details
Unleash the Magic of Effortless Cat Grooming!
Introducing the Cattasaurus Self-Cleaning Brush™, the ultimate weapon in your battle against cat hair, leaving no strand unchallenged.
This grooming marvel effortlessly tackles stubborn fur, transforming your cat's coat into a pristine, tangle-free masterpiece that even your feline friend will admire.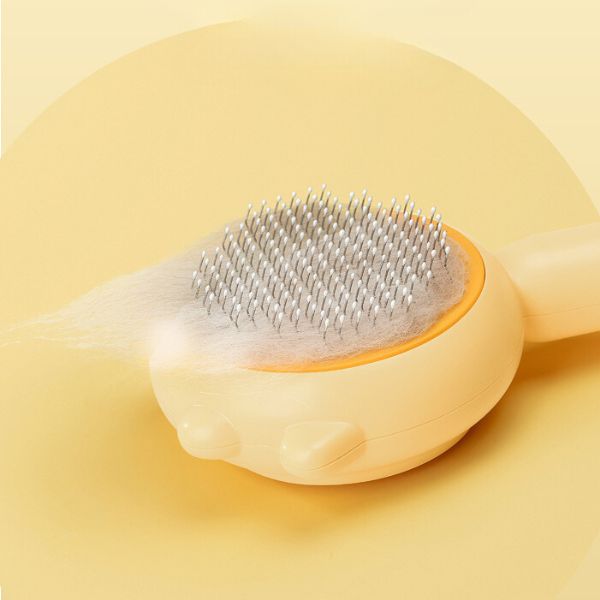 End the Shedding Madness
Get ready for some feline fashion magic! Our fabulously curved bristles, angled at 145 degrees, smoothly whisk away pesky hair from those hard-to-reach places on your cat's coat. No pulling, no drama!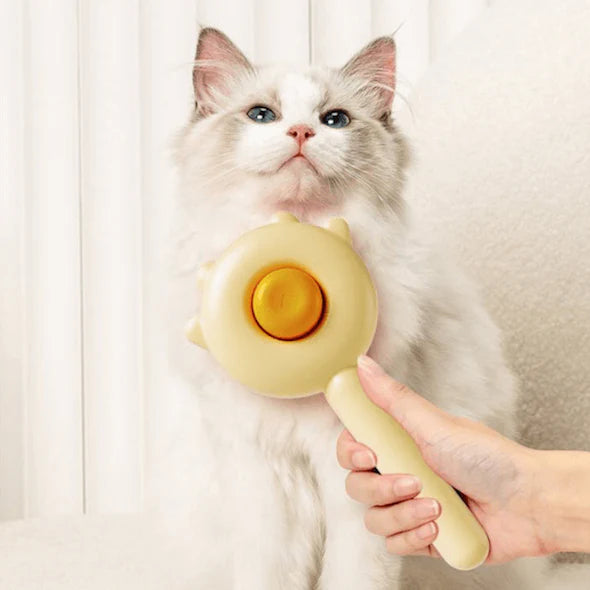 Ready for Shiny Result?
Keep your furball happy and tangle-free! 208 mental bent bristles with rubber tips pamper your kitty's skin and boost blood flow for a fabulous fur coat!
No More Cleaning Hassle
The button on the back can make disposing of the shed hair one-handed without having to let go of the cat super easy.
Why us?
Free Shipping (Over $79) & Returns

90-Day Money-Back Guarantee

24/7 Customer Support

Loved by +22,000 Furry Customers

Safe & Secured Checkout
Frequently Asked Questions
Does this cat brush work on short hair?

Our pet hair brush is suitable for short haired cat, using it on a regular basis can effectively remove loose hair, tangles, knots, dander and trapped dirt. Making your pets shiny and healthy.
Does this brush good for mats only or daily brushing as well?

The Cattasaurus Self-Cleaning Brush™ is designed not only to effectively remove mats from your cat's coat, but also for daily brushing. Its gentle bristles glide through your cat's fur, removing loose hair, preventing tangles, and providing a soothing massage. Regular use of this brush helps maintain a healthy, shiny coat and reduces shedding, making it an excellent choice for both tackling mats and daily grooming.
Where is it made?

Our company and products are incorporated and designed in USA. Production takes place in China where we are able to work closely with our supplier to bring you the highest quality products at an affordable price.
Are the Cattasaurus Self-Cleaning Brushes available in stores?

The Cattasaurus Self-Cleaning Brushes are only available on our online store. We prefer to sell directly to our customers to keep the prices as low as we can