LickaMat™ Pets Slow Feeder Lick Mat
Regular price
$35.99
Sale price
$17.99
Unit price
per
Sale
Sold out
Details

Designed to look like a leaf and filled with soft polyester cotton to provide maximum comfort and warmth to your furry friend.
Use super soft and smooth material to care for your pets' skin, giving your pet the perfect place to snooze on with a maximum sense of security.
Let your pet sink into a place full of relaxation to sleep, away from fatigue and stress.
Easy to clean and easy to storage.
Available on both sides. You can choose whichever your pet likes.
Size Guide
Shipping Info

Shipping:Your order will be processed within 24 hours.Question about the shipping fee? Orders above $39 USD, get free shipping! For orders under $39USD, our standard shipping is a flat $4.99 USD.

Returns:If you have any quality issues with your order and want to return or exchange an item, just email us at support@cattasaurus.com within 30 days after order fulfillment, and we'll quickly respond with details to exchange the product or process a refund.
Customer Reviews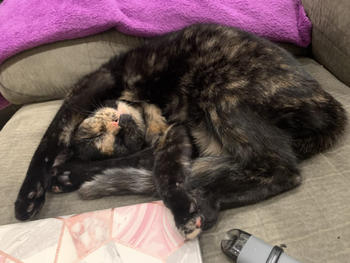 10/05/2021
Comes with everything you see. The two mats and the spatula which is a nice little inclusion. Makes it easier to get the soft food I feed my cat out of the can and spread it onto the mat well so she gets the full effect. Does seem to reduce her anxiety a bit and even helps her to slow down while she's eating which is a positive. Both mats that come with the order have durable construction and are relatively easy to clean. Just spray them off. I haven't tried putting them in the dishwasher as I do not know if they are dishwasher friendly so I just hand wash them to be on the safe side. Beware though. When your faucet hits these mats it throws water everywhere not a flaw in design. That's just how physics work lol. I wore a bunch of water the first time I washed them. So be prepared for them to spray everywhere. All together though they're very inexpensive and well made. They work to calm my cat down and I'm pleased with my purchase. If I ever need replacements I would certainly purchase these exact ones again. My cat gets really excited when she sees the lick may come out. She knows it's dinner time and she is READY!!!!!!
Ivonne C.

United States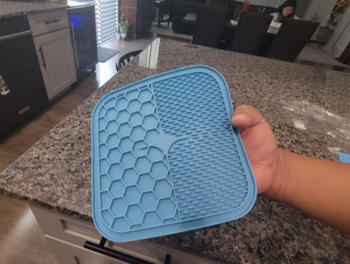 10/04/2021
Not a fan of how this may arrived but it was easy to clean and it certainly slowed my 18 lb cat down. So much so, she took a break in the middle of her feeding and then went back for the rest. She's never done that in her 5 years of life. I also like that I can use this for my dogs and freeze with peanut butter during the summer months. Will likely purchase 2 more of these in the future!
Adriana A.

United States
10/01/2021
I initially bought two slow-feed mats in an attempt to keep my cats from inhaling their wet food. The mats have worked nicely to slow the cats down at meal time, and cleaning the mats is easy since I just rinse off any leftover food bits before putting them in the dishwasher. These mats are a godsend.
Adelle B.

United States
09/25/2021
These are useful for my two kittens that tend to eat their food very quickly. The little squares slows them down considerably. There usually is a bit of food left over that they were able to get at, but not a lot. I find them very easy to clean if you just run them under hot water with the faucet on "spray" mode. Then I use a scrub brush to brush into the crevices and get it totally clean.
Artie V.

United States
09/20/2021
Love this mat. My new rescue 12lb Chiweenie does not like treats or kongs. I first had the orange soother and now the purple one and have put organic pb, baby food and natural Portland dog food on it. I freeze it and then give him in aft/night to keep him busy if he's bored. Just make sure to adjust daily food intake if using this for a snack as my guy appears to put weight on easily. Customer image
Debra H.

United States