CaveKitten™ - Cozy Bed For Cats
Regular price
$59.00
Sale price
$49.00
Unit price
per
Sale
Sold out
Details

ANTI-ANXIETY: The noise muffling material, creating a safer environment for your kitty. Lined with synthetic felt and faux fur, providing a bubble of tranquility and security for your kitty!
WARM BED FOR OUR CATS: Winter is just around the corner, and you can already feel the cold in the air, for that reason and because cats are more sensitive to the cold, this bed offers a warm and comfortable shelter for our beloved pet.
COZY HIDING PLACE: Cats sometimes need to be alone. Allowing them to go in hiding when you have company over and they need to hide for a bit.
COMFORTABLE AND COZY: The large, round entrance and spacious interior of the cat teepee are supported by high-density foam, keeping your cat warm and comfy!
STURDY STRUCTURE: The large, round entrance and spacious interior of the cat teepee are supported by high-density foam, keeping your cat warm and comfy!
Size Guide
Shipping Info

Shipping:Your order will be processed within 24 hours.Question about the shipping fee? Orders above $39 USD, get free shipping! For orders under $39USD, our standard shipping is a flat $4.99 USD.

Returns:If you have any quality issues with your order and want to return or exchange an item, just email us at support@cattasaurus.com within 30 days after order fulfillment, and we'll quickly respond with details to exchange the product or process a refund.
Customer Reviews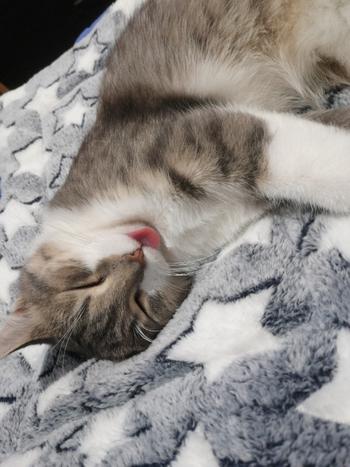 09/29/2021
Comfy kitty
MY BABY LIKES!!! It took her a few days to want to get into it herself and placing her into it didn't help. I'm not sure what made her change her mind, she just started going into it herself but now she sleeps in it all the time and even plays with the dangly thing. I keep it next to me on my bed for her to sleep by me! we like!
Rosemarie V.

United States
09/29/2021
Picky cat LOVES it
I purchased this for my 14 year old calico that I adopted a couple years ago. She is quite the creature of habit. While my other calico has about 20 different sleeping spots, Chloe typically stays in her one bed - thats it. I figured maybe I'd try this to switch things up for her, give her another option. It sat there for a few days, she seemed to have no interest, then all the sudden she started using it little by little. Now she's pretty much abandoned her other bed for this one. She loves it! Especially because it's covered, but yet at the same time still open enough for her to see out and not feel confined unlike other cat igloo beds. It's pretty soft and sturdy, keeps its shape. I may even buy her another. Would definitely recommend.
Melany M.

United States
09/23/2021
Cat's love to curl up in it. Exactly as you want.
It was a lot bigger than their last bed, taller too, so it took some convincing that it was better but once they were won over, the old bed sits sadly alone. My 10 year-old 18lb long hair tabby adores it because it actually fits inside completely. My two other boys love to cuddle together. Haven't had it too long but already showing wear-n-tear, mostly understandable given the claws on my boys, but be aware of loose threads, clip them before they become a problem.
Kaleigh B.

United States
09/23/2021
Kitty loves it
It took a day or two before my kitten warmed up to it but now that she has, she doesn't want to get out of it. It's super soft and appears to be made very well. I like that the bottom comes out for easy cleaning. So happy I ordered this bed and not one of the many others. Now Ender and I can both sleep peacefully and I don't get my face attacked every time she wakes up and I roll over. She's a very playful kitten, but this bed brings out her laziness.
Shelley C.

United States
09/23/2021
This cat bed seems wonderfully warm and comfortable. It is really big, for a cat bed. It's actually bigger than my small dog's bed, which I find strange. High quality, beautiful materials. The only problem is that my cat won't use it, haha. That's not the bed's fault though. She is young and a rescue kitty, so she just isn't keen on really soft surfaces yet. Hopefully she will grow to like this bed. I give it four stars because my cat won't use it. I will update my review to 5 stars if she does.
Junko T.

United States